ניהול לקוי: סיבות וטיפול (Hebrew)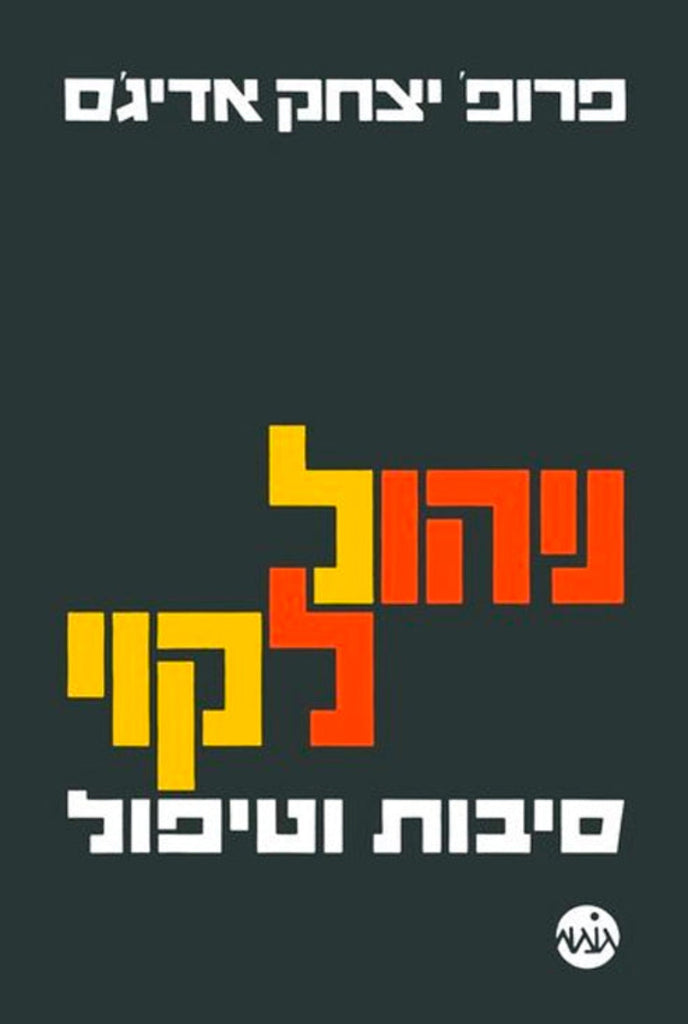 ניהול לקוי: סיבות וטיפול (Hebrew)
הספר "ניהול לקוי" מציג גישה חדשה ורעננה לניהול יעיל שמטרתו רווחים וצמיחה המושתתת על ההבנה כי אדם יחיד אינו יכול להיות לעולם "המנהל המושלם כמו שכתוב בספר".
הרעיון המרכזי הוא שההתעלמות מעובדה זו מעמידה בסכנה את הפרודוקטיביות והריווחיות של האירגון. המחבר מציג גישה חדשה לניהול, בהבהירו כי ניהול הוא תהליך מורכב מכדי שיחיד כלשהו יהיה מסוגל לבצע את כל התפקידים הכרוכים בו. כל תפקיד מחייב סגנון מיוחד לו - דפוסי התנהגות שיתרחש כמצופה בתגובה
על מי מצבים ספציפיים. בכל זמן נתון, התפקידים המוכלים בתהליך הניהול מצויים במצב של התנגשות הדדית, אף-על-פי שאדם יכול לבצע את כל התפקידים הללו במרוצת הזמן, הרי לעולם אין אדם אחד יכול לבצע את כולם בו-זמנית.
החומר הכלול בספר הזה מאפשר לאבחן ניהול-פגום ולתכנן אסטראטגיות לטיפול הולם בו.
| | |
| --- | --- |
| Original Title | How to Solve the Mismanagement Crisis |
| Language | Hebrew |
| Paperback | 224 pages |
| ISBN-13 | 9789651600272 |
| ISBN-10 | 9651600276 |
| Vendor | Adizes Institute Publications |
| Date Published | Oct 01, 1979 |
הספר "ניהול לקוי" מציג גישה חדשה ורעננה לניהול יעיל שמטרתו רווחים וצמיחה המושתתת על ההבנה כי אדם יחיד אינו יכול להיות לעולם "המנהל המושלם כמו שכתוב בספר".
הרעיון המרכזי הוא שההתעלמות מעובדה זו מעמידה בסכנה את הפרודוקטיביות והריווחיות של האירגון. המחבר מציג גישה חדשה לניהול, בהבהירו כי ניהול הוא תהליך מורכב מכדי שיחיד כלשהו יהיה מסוגל לבצע את כל התפקידים הכרוכים בו. כל תפקיד מחייב סגנון מיוחד לו - דפוסי התנהגות שיתרחש כמצופה בתגובה
על מי מצבים ספציפיים. בכל זמן נתון, התפקידים המוכלים בתהליך הניהול מצויים במצב של התנגשות הדדית, אף-על-פי שאדם יכול לבצע את כל התפקידים הללו במרוצת הזמן, הרי לעולם אין אדם אחד יכול לבצע את כולם בו-זמנית.
החומר הכלול בספר הזה מאפשר לאבחן ניהול-פגום ולתכנן אסטראטגיות לטיפול הולם בו.